Day 5 - We reach the next downhill section at about 3:30 AM. I'm feeling great and have been ever since coming out of Wardsworth Canyon. My feet are killing me because I've been wearing bike shoes on a 40+ hour hike. I've paid some attention to them, but not nearly enough. This last few miles of the bike leg has been on smoothly-graded gravel roads. I've learned over the past few miles that it's much easier for me to stay on the bike and pedal, however slow it may be. It's easier on the feet and it feels more like progress.
We are near CP 16 but the checkpoint marker is not where it is supposed to be. I decide quickly that we are definitely in the right spot, and the CP is not. The Four Winds team has not historically hid checkpoints, so we continue on with the belief that the CP is missing. We'll make a note and let them know at Strawberry Reservoir. We struggle through the last couple of hours of darkness through rolling ups and downs on our way to CP 17. I'm feeling confident of our position on the map and think I'm getting pretty good at reading and identifying the mountainous terrain. I also decide that my Suunto Vector altimeter watch is the single best investment I have ever made in race equipment. What an awesome navigational aid!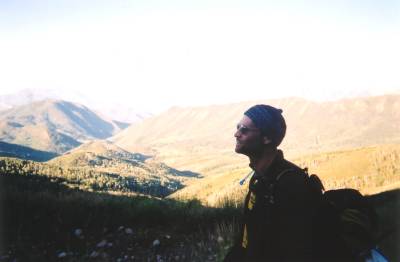 On the way to CP 17, we find an incredible surprise. At the top of a hill we come across a tent with race officials. It turns out that they're the CP for the hiking section that passes next to the bike leg. We also get our first glimpse of Strawberry Reservoir. It's exciting to finally see our destination and our spirits pick up. The real bonus though is military rations! A banquet of MRE's (Meals Ready to Eat) is spread out before us and you would never believe how good cold ravioli could taste. Snack pudding and fresh cold water round out the meal as we stuff ourselves, sitting at 8400' watching over the valley below.
The checkpoint volunteer, "Ski Patrol Mike", watches Danny walk away from the rest of the group and says "watch him, he's definitely a city guy, he's peeing into the wind." It seems like a good metaphor for this bike ride.
CP 17 is another ½ mile away. The ride from 17 to the road is a fast singletrack downhill. This time it's a nice hard packed trail dropping about 1000' over 3 miles. This trail brings more animals, but of a different variety. Thousands of sheep line the trail and clog the way. We race down the trail baaing at them and laughing as they scatter. Just another in a long line of weird experiences.
As we get within a few miles of Strawberry Reservoir, Colleen finds a burst of energy. She's cranking up the hills! These last few miles go quickly as we ride like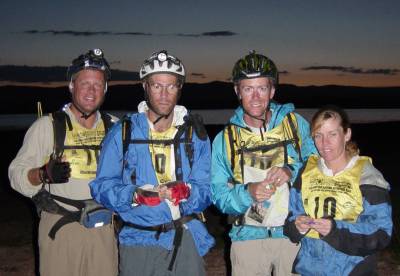 horses racing back to the stable. Of course, we have more bike problems but we refuse to let them slow us down. Tom's derailleur snaps off his bike, so we convert his bike to a single gear by breaking the chain and removing the derailleur. Tom gets another flat tire. Tom's rear disk brake explodes in a shower of springs and screws. No big deal, just pack up the shrapnel and continue on.
Sixty-four hours after we started, we reach the park road and the marina is in sight. Everyone's excited to see us after our epic as Will from Team Aardvark hugs me and says, "Man, we didn't know where you were and Randy was going nuts, it's good to have you back." We walk up to the CP and proudly announce, "we didn't get eaten by bears, we did not have to cut into one of those cows for food, and absolutely, positively, at no time were we ever lost!" The bike ride is finally over!
McDonalds burgers, fries, and shakes are waiting for us. I wolf down a Double Quarter Pounder and a Double Cheeseburger, washed down with two tall lemonades and a strawberry shake...kind of appropriate since we're at Strawberry Reservoir!
With gear prepared and stomach full, I head off with Randy for some map study time before hitting the boats. I work for about an hour and fall asleep reading the maps. Randy graciously offers to work on the route while he loads me into a nearby bed. What a great friend! How many people would give up vacation and family time to work as hard as he and Jerry have this week. Their support is appreciated.
Next page >>