June 24, 2000, 8 PM - The pre-race meeting. 168 nervous people find out their fate for the next 48 hours.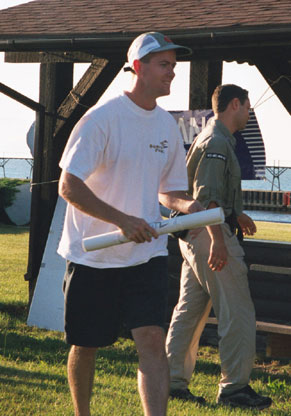 Each team gets a set of 11 maps. Next step...where do we go?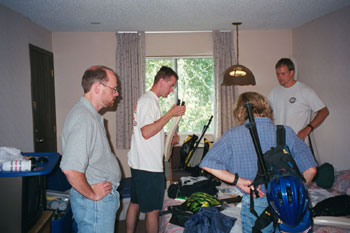 Back to the hotel room. The task of figuring out what to do with all this gear...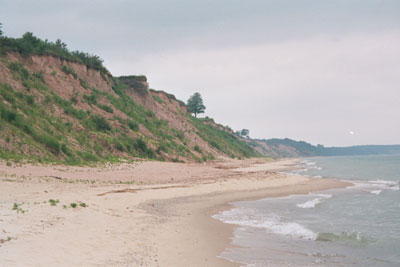 The race started at 5:15 AM with a 3-4 mile hike down the Lake Michigan shore. A perfect start to the race.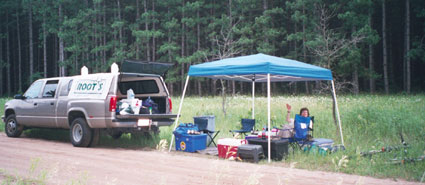 Look at that set up... What a crew...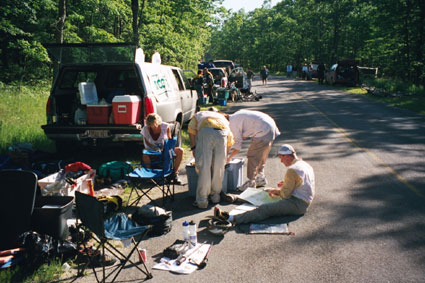 At CP1, we pick up the bikes and head out for 25 miles of roads, dirt trails, goat paths, and sand pits. We entered the transition area, cheering and having a great time, at about 10:30AM.
Checked our maps at the transition area, changed out of the bike shoes, more water, food, grab the horse and go.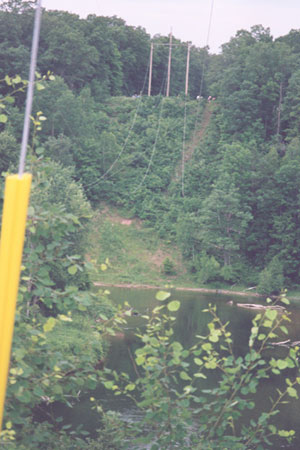 Eleven miles with Candy the horse, followed by 22 grueling miles of hiking (and don't forget the 2 river crossings!), brings us to the zip line. 550 feet of rope over water at a max height of about 150 feet. AMAZING RIDE!
Next, we set off on 25 miles of possibly the best singletrack in the state of Michigan, maybe even the best in the Midwest! Rolling hills, exposed drop-offs, fast downhills, all between the hours of 1 AM and 6 AM to add a bit more excitement!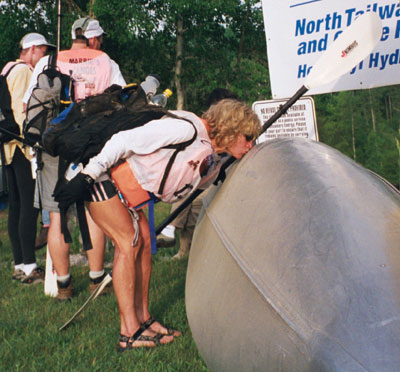 7:00 on June 25 - We pull into the last Checkpoint ready for a canoe ride...the 45 mile canoe ride with no end!!!!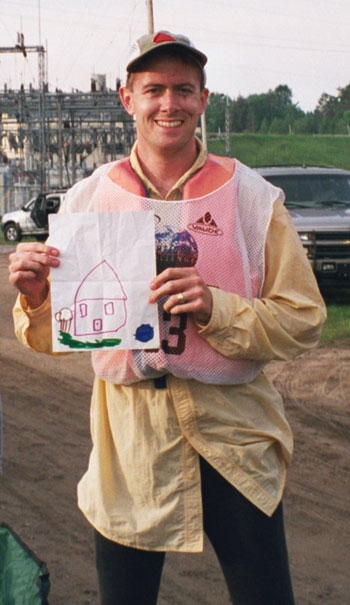 John is all ready for the ride. He's got his good luck picture from one of his little buddies. (Thanks Rachael!)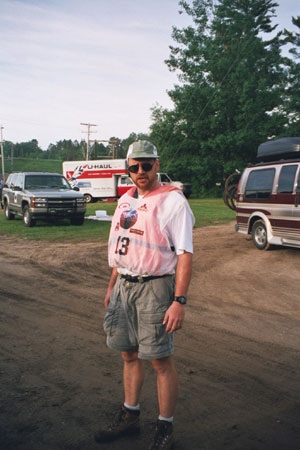 Wait a minute...how long are we going to be in that boat???? Did you say 45 miles!?
And we're off...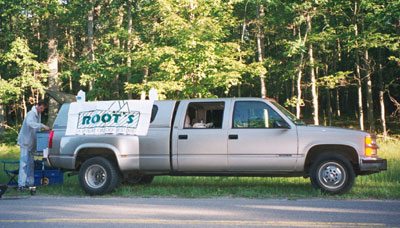 Len and Lori pack up the Load Warrior and head back to the finish line to cheer us on. Thanks crew!! You're awesome!
A mere twelve hours later, we can't get out of the boats fast enough! We've done it. 38 1/2 hours of pure excitement, and it was all worth it. Team Orange Triangle has completed the Pathfinder Challenge 2000!
Congratulations
Team Orange Triangle