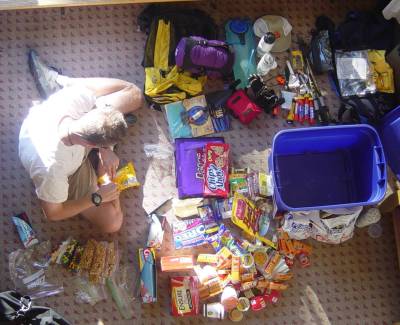 Adventure Racing requires a team to be extremely conscious of the equipment carried since every ounce carried slows you down.
Race disciplines range from miles of trekking, navigation through dense forests, mountain biking, horseback, canoeing, kayaking, ascending, rappelling, and more.
Here's a sample of the type of equipment we carry during a race.

Each team member wears a backpack (700-1800 ci)

Bike helmet

Gloves

Trekking poles (Leki, of course!)

Ascenders

Carabiners, climbing harness, and webbing

Water, water, and more water

Dry bag

Knife, easily accessible

Lighter

Survival blanket

More water

Iodine tablets

First aid kit

Compass

Topographic maps

Waterproof map case

Mechanical pencil and highlighters for marking the maps

Don't forget the water

Headlamp

Extra batteries

Bike lights

Energy bars, gels, etc.

Whistle

Kayak paddle

Extra batteries