Tom and I decide to climb up further to better assess the terrain and determine our position. It's so dark that our headlamps and flashlights are not able to help us. Breaking out the handheld flashlight means I have now used every piece of equipment I have been hauling, with exception of climbing gear. Search for a trail, we try to bushwhack through the landmass to our right thinking we can work our way over to the reference point. We're exhausted. I'm stumbling dangerously along the steep trail, barely staying awake. The hallucinations continue as the wildflowers look like little people with outstretched arms and legs rocking towards and away from me. It was if they were teasing me, laughing at me. Stumps looked like people sitting on chairs. One flower appeared in the shape of a skull. Everything had eyes.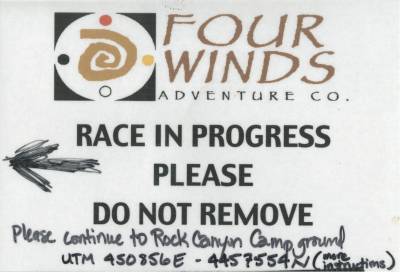 Bushwhacking is useless as the brush is just too dense. It's past midnight and we've been trying to work our way out of the canyon since 9 PM or earlier, with no progress. We're extremely tired and almost out of water. We're quickly coming to grips with the reality of the situation. We're stuck in this canyon. It's impassable at night, especially in our condition. We desperately descend to the starting point at the bottom of the canyon, hoping to find another way out.
Tom and I are not ready to accept defeat and we continue to search for a trail at the bottom of the canyon. Danny and Colleen shut down, too exhausted to continue. Tom reluctantly follows, frustrated at the knowledge that our race is over. The race cutoff time is at 8 AM and we won't finish. I hike down the trail trying to find a trail that is clearly marked on the map. It's not here. I come back to the trailhead and sit on my sleeping bag and stare at the maps hoping to find another way. After 185 hours on the trail, our dream of finishing this expedition race is over a mere 4 or 5 hours from the finish line. After all the difficulty this team has faced and after how well we've come together as a group, we will not finish the Four Winds Supreme this year.
I turn out my light.
Does the story have a happy ending after all? >>