Day 2 - Once on the water, we quickly move through checkpoints 10 and 11 at the south end of Utah Lake and we're working our way toward checkpoint 12 on the west side of the lake. As in the first day, our navigation between points has been going well and was not a concern.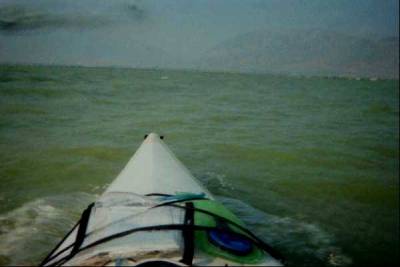 On the way to CP 12, the race director approaches us in a boat to tell us that the waves on the lake are getting too rough and that they want to route us away from CP 12 and back to CP 10 to avoid crossing the center of the lake where the waves are at their peak.
What had been a smooth afternoon paddle, allowing us to make up time, has suddenly turned into an exhausting effort battling wind and waves. Tom and I try to paddle toward shore in hopes that the waves are smaller near the shore. Making progress in any direction other than backward seems almost impossible as we watch the shore to the east appear to never change. As we cross the waves sideways, water pours in filling the boat like a bathtub. Sandwiches, assorted gear and our water bladder hoses float in the filth in the bottom of our boat. Suddenly I've lost my appetite to eat or drink.
As we finally approach shore about 2 miles from the harbor, we realize that the water at this point is only knee deep and decide that it would be easier to get out and tow the boats. We drag the gear-laden crafts along the shore to the mouth of the Provo River. After picking our way through discarded pots, appliances, and other assorted household products exposed by low water levels, we reach a portage and haul our boats ashore, 10 ˝ hours after we began the trip.
We get back to camp and quickly organize our gear for the next bike leg. The last item to complete before leaving was to decide our route and find checkpoints. Plotting the 8 points that we would encounter during this segment of the course is an arduous task, using more maps than there are points. The distance between some points is often 2 and 3 full map sections apart.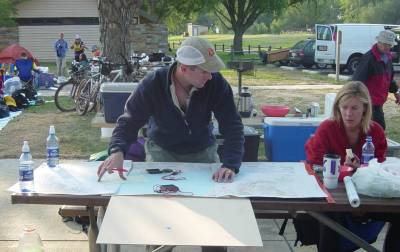 I complete the maps at about 10:45 PM with Randy's help while the rest of the team gets some sleep.
I ask Randy to give me about 15 minutes to rest. While I lay in the tent, my mind races with things that need to be done… I want a few sandwiches for the bike leg. I need to have my light strapped to my helmet. Things keep coming to me but I don't want to get up and do any of it. Fifteen minutes comes way too quickly so I tell Randy that I have a better idea. "Can you do a few things for me and then give me until 2 AM? That way I can get some sleep too, we will spend less time trying to find our way in the dark and have less chance for navigational error." Randy's response…"How about 3 AM?" Ok. And I was asleep.