I chase Colleen down as she's leading the group down the hill. We reach another fork in the road and another decision point; either option will take us to our destination. Both appear on the map as two- tracks, but one, the more direct route is actually a downhill single track trail. The single track has the potential to cut 2-3 miles from our trip, but Utah single track has been deceiving so far. The last time we got excited about downhill we ended up in the infamous Dead Cow Canyon for the better part of a day. We discuss the options for a minute and the team unanimously decides to go for the single track.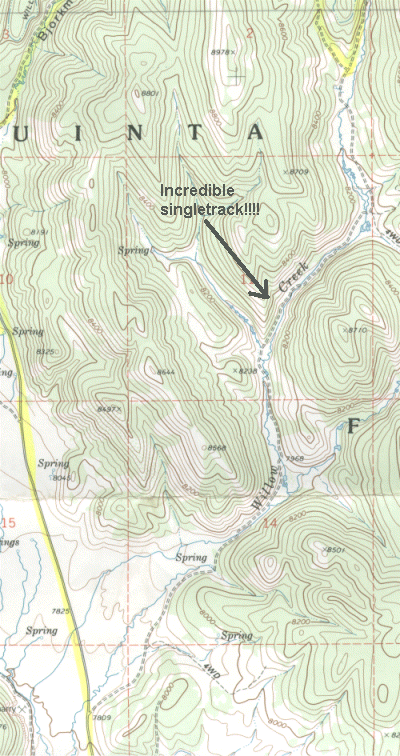 This story, unlike so many others, has a happy ending as we are rewarded with the single most spectacular 3 miles of trail any member of the team has ever touched with knobby tires. It's an absolutely amazing hard pack trail with a gentle downhill grade, meandering through a wildflower and eucalyptus filled canyon. Numerous stream crossings at high speed cool us down form the mid-day sun and add even more excitement. We can't believe both the beauty of the canyon and the good fortune that led us to this decision to be on this trail.
One of our quickest transitions of the race, about 30 minutes, takes us to the horses. The horseback section turns out to be an uneventful slog, except that now we've added two beasts that we have to baby-sit for the trip. Seven miles uphill and another seven back down will bring us back to the final supported TA of the race.
On the way back to the transition area, Danny and I discuss strategy for the rest of the race and the need for discipline in the final day and a half ahead of us. As the team organizes gear and eats the Domino's pizza that Randy and Jerry picked up (a taste of civilization!), we talk about what it will take to finish and gain the commitment of the entire team. Our plan starts with a complete rebuilding of our packs, eliminating any unnecessary items. Discipline around the number of length of rest breaks is important. No more then 15 minutes sleep at a time. Five-minute breaks about once every 2 hours, and we agree to not remove the packs during the rest breaks. Constant movement, regular eating, and hydration are key elements to success. All agreed, we rebuild the packs, grab an hour of sleep and head out at 12:30 am. We don't expect to see the crew until the finish line.
Our goal: 24 hours to the finish.